A holiday gift guide is never late, nor is it early. It arrives precisely when it means to.
I understand this is so very last minute, and it's probably way too late to order most things and have them arrive on time, but I still want to share this list. If you're a known gift-getting procrastinator, or the receiving person doesn't care about timeliness, this post is for you!
***
Depending on who you ask, gothic lolitas may be the easiest or most difficult people to shop for. I'm biased so I think we're an easy bunch to figure out.
If you're looking to get the gothic lolita in your life a gift and you're stuck on ideas, here's a list to help you out:
Jewelry
I'm going to make a safe generalization here: gothic lolitas love jewelry.
Jewelry is probably going to be the most diverse in terms of options, and an easy win in my opinion. Necklaces are my go-to thing to ask for since they're straightforward, easy to purchase, and don't need sizing details. Rings might be more difficult if you're not sure on the recipient's ring size, but you can always get "one size" rings or flexible pieces (e.g. Néant Glass' ring bands are flexible).
One thing I would suggest before purchasing jewelry for someone is to do some digging and see what kind of style your recipient prefers and if they wear gold or silver.
Here are some of my favorite general gothic jewelry brands, with different price ranges, that are a safe bet for any gothic lolita:
*Many of these shops are on a break for the holiday/end of the year, or have limited releases. Bookmark them for later and follow their social media accounts for opening dates or collection drops!
I received this as a gift earlier this year and it's the most perfect little fella . There's a good chance the "Gothic Lolita In Your Life" already has the larger version of this bag, but this is still a great bag when looking for a smaller one to use and I highly recommend it.
For other bag options (in the "expensive but nice and well worth it" category):
(Before you ask – KVD Beauty is under entirely new ownership so it's OK to buy again!)
Not much to say here other than we're always in need of more lipstick and eyeliner! Gothic lolitas do wear other lipstick and eyeliner colors but black is a necessary staple. I recommend KVD Beauty since I am the most familiar with this brand and have been using these products for almost a decade. KVD Beauty's lipstick has a new formula that has been rated fairly well, along an iconic eyeliner pen that will be a forever favorite due to its ease of use and brush tip.
You can never have too many black OTKs, especially if for people who wear mostly black in the first place. These socks are unbelievably comfortable, stylish, and pair well with everything. Also TBR ships fast (FAST fast) so there's a high chance these will arrive in time for the holidays if you buy a pair.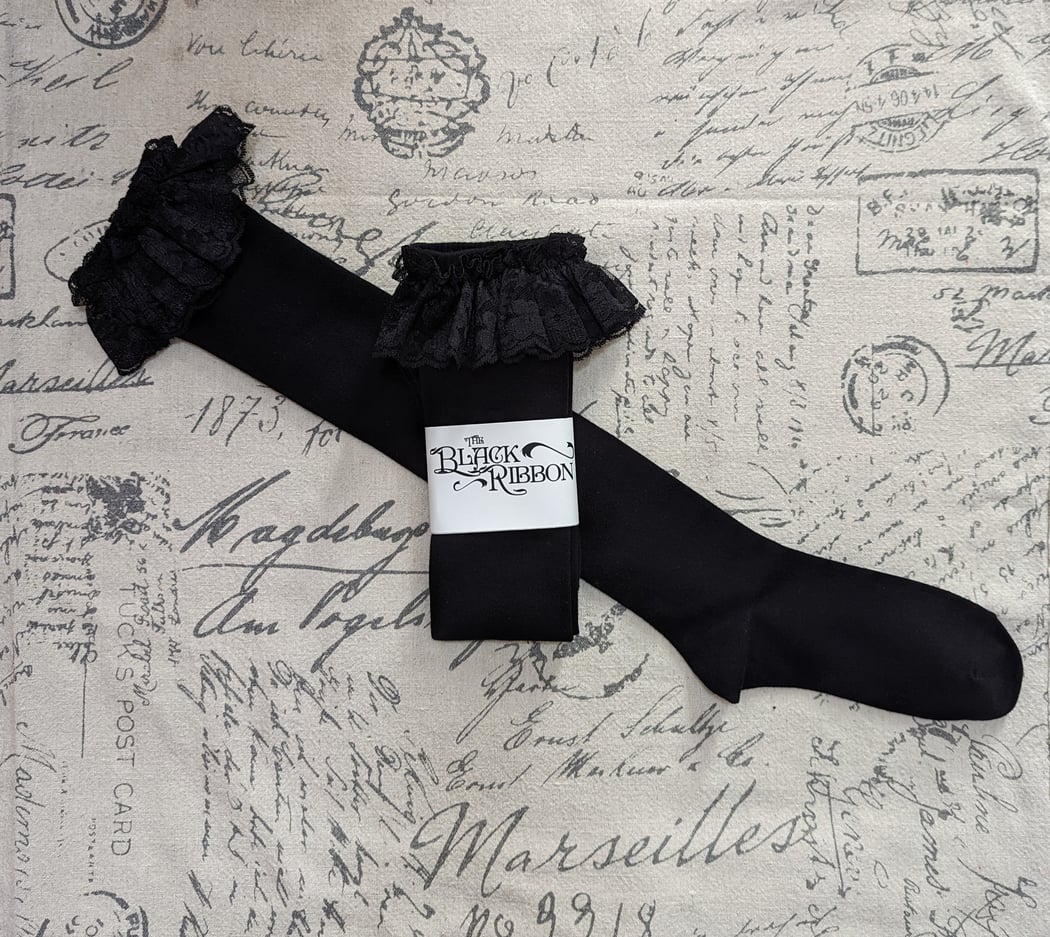 Antique Housewares/Curios
If you live near any antique shops, try and find some old, ornate housewares with a baroque flair. Look for things like mirrors, picture frames, catch-all dishes, candlesticks, and silver serving trays. The key thing to watch out for is if it looks like it's haunted by a small Victorian ghost child. If it looks haunted, it's perfect. That's the one. Take it home.
If you're not sure about their personal home decor style, you can always go with a candle, leading to:
Candles!
Please do not ask me about my own personal candle habit. I am embarrassing and I have a problem.
For regular candle jars, I recommend Burke & Hare Co, and for unique shapes or taper candles Graveyard Wanders.
Yumi is an amazing artist with such an incredible attention to detail! These gorgeous art prints would be a great gift for a gothic lolita. Yumi also recently released a few shirts if you're looking for a more casual gift.
Follow Yumi on Instagram:
If they paint their nails, this one-coat nail polish is an excellent gift idea. This polish adored by its users and tons of people swear by it. Don't forget to include a base and top coat!
Tea
Unless they're an avid coffee drinker, tea is always beloved and discussed in lolita circles. Tea might be a little harder if they have specific tastes, so a gift card to their favorite shop might be a better option. A gothic tea cup or mug would also be a good gift to include along with this.
Halloween Decor
This is a joke, but also this is not a joke. Buy them Halloween decor.
A Trip
Plan a day to take them out somewhere! This could be a few things:
A tea parlor or cafe
Bakery
Have a picnic
Museum
Picture-esque location for a planned photoshoot (in general, all lolitas love this)
etc.
And lastly, when all else fails:
Money for Lolita Clothing
If you don't know anything about the fashion, looking for a specific piece might be a daunting and almost impossible task. It's impersonal, but money with a note that it's specifically "For Lolita Clothing" will probably be very appreciated.
***
For more, check out Lovelylaceandlies' post on last minute ideas: https://lovelylaceandlies.com/2022/12/14/last-minute-gift-ideas/